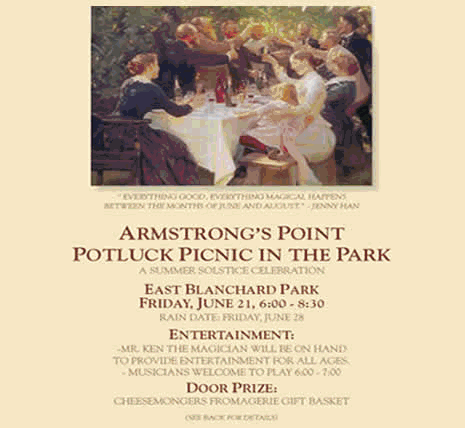 A breeze was blowing, the sky was blue, and a white tent and tables under the trees set the scene for our first ever Summer Solstice, Summer 2019 potluck picnic in East Blanchard Park.
We were greeted with a tempting array of dishes brought by residents, from appetizers, lasagna and chili to salads, roasted vegetables and desserts. Refreshing lime-hibiscus tea and iced mint maté beverages were provided by the Twelve Tribes. We went "green", bringing our own plates and cutlery.
Mr. Ken, rated Winnipeg's #1 magician, entertained everyone - young and old - after we had enjoyed our food. He had to stay on his toes to prevent community kids Lily and Damon from completely stealing the show. (Visit our facebook page to view the videos) https://www.facebook.com/ArmstrongsPointAssociation/
Door prizes were donated by residents. Benny, age two (whose favourites are chocolate and ice cream), had the winning ticket for the kids' prize of a raquet game and gift certificate for Decadence Chocolates, and Margaret Firlotte took home the adult prize of a generous gift certificate for Cheesemongers Fromagerie.
There was plenty of food, more than enough to offer Travis and his Bear Clan Patrol refreshments as they dropped in for a visit during their walk through the neighbourhood.
Thanks to APA Board members, Mr. Ken the Magician as well as Sandy Butterfield, Pete Firlotte, and Jocelyne Hullen for organizing this event - also to Dawn and Liv Zifarelli and Myles and Damon Raichura for volunteering to help out.
It was a pleasure to talk with neighbours we haven't seen in a while and to get to know new residents. Thanks to all who brought themselves, their children, and their food to share. It was your presence that made it such a magical occasion.
Click image for full PDF